Reserve online
Hotel Principe di Villafranca Palermo
and save with our discounted rates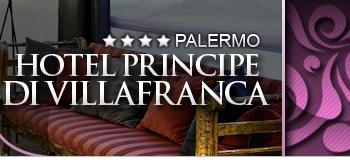 The Principe di Villafranca hotel boasts a really enviable situation in the heart of Palermo; the hotel lies a few steps from the historical city centre and near the economic and financial heart of the city.

It also boasts of being located in the eighteenth century the site where once stood one of the most famous parks in Europe, once extensive hunting preserve of the Princes of Villafranca: the Firriato. Today this area has been transformed into a modern and vibrant district, an ideal destination for tourists and businessmen.

The Principe di Villafranca hotel, an elegant 4-star hotel, offers to its guests spacious and comfortable rooms, furnished with the best amenities, including: cupboards painted by the local artists, luminous and large bathrooms faced with Sicilian marbles, satellite TV LCD with SKY channels and strongbox.

The hotel places at its guests' disposal further services to guarantee the best comfort, like: the spacious reading room, the internet point and the chimney room.

The gastronomic offer is excellent, too. It includes the refined bar and the adjacent restaurant.

The restaurant is called "Passion in the Kitchen" and serves traditional dishes of the ancient Italian tradition, with particular reference to the Tuscan cuisine.
Give us your Feedback
Hotel Principe di Villafranca, Via Giuseppina Turrisi Colonna, 4, - Palermo